Transport
KGS Transport System Covers all the Routes in the City
A journey that's fun and fulfilling.
A child's safe travel to school and back is every parent's concern, which is quite understandable of them. To address that very concern, Kairos has a fleet of buses that ensures safe, on-time and tension-free commuting of children to school and back. What will also comfort you is that the fleet is installed with tracking devices, GPS and also has a CCTV to keep a watch. Importantly, every bus has a dedicated care-taker to ensure the safety of every child in transit, who's trained to handle children. What shall comfort you even more is that the bus also transports teachers who hail from different areas of the city, who are encouraged by the school to use the fleet. To top it all, the entire campus is fitted with CCTVs networked to a central server and room monitored by trained security personnel.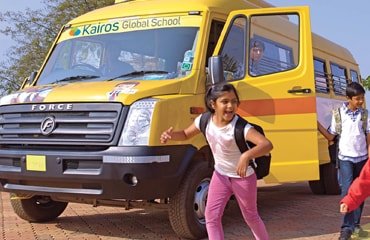 Transport Routes
Sun City – Hydershakote – Narsingi – Bandlaguda
Alkapur Township – Neknampur – Manikonda
Shaikpet – OU Colony – Panchavati – Marrichettu
Jubilee Hills – Prashasan Nagar – Tolichowki – Manikonda – Lanco Hills
Nampally –– Masab Tank – Mehdipatnam –– Tolichowki – Shaikpet – Manikonda
Gachibowli – Telecom Nagar – Khajaguda – Manikonda
Note: In the next Academic session, new areas will be added.
Kairos has a fleet of vehicles that's a mix of well-maintained buses and air-conditioned mini-vans that makes the journey on both ways fun, while fulfilling the needs of students.